Taking the hassles out of travel in and out of Joburg
RELAX WITH FELLOW HUNTERS
Our Mission:
Offering the best start and finish to your African safari.
Situated only a few minutes from the O.R. Tambo Airport (Joburg International Airport), Afton is the ideal way to start and end your safari to Africa. From the meet & greet assistance at the airport, permits, shuttle to and from our safari lodge in a wonderful setting, we are here to take the hassles out of travelling in and out of Joburg.
Elize is that familiar face you will meet after every detail has been checked to ensure you have a smooth arrival and departure.
Charney was with Afton shortly after we took over in 2017, went off to have her daughter and is now back full time.
Wisdom & Christina are here to ensure you are well catered for – with drinks of our recently upgraded menu.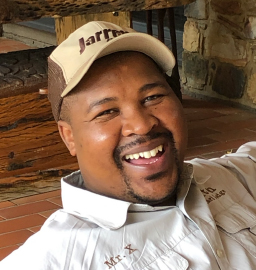 Mr X knows more about Joburg's airport than just about anyone and is here to ensure a smooth transit.
Joseph, our Malawian professional driver will safely shuttle you back and forth or take you shopping – actually take you anywhere you need to get to, in one of our vans